Beverly Bremers Rockin' The '60s & '70s
"Rockin' the '60's & '70's" pays homage to the greatest singers & songs of that era, along with Beverly's own signature hits, "Don't Say You Don't Remember" & "We're Free". The show features such classics as "That Old Time Rock & Roll", You Don't Have To Say You Love Me", "Downtown", "Da Doo Ron Ron", "Natural Woman", "Close To You", "Tell Him", "Piece of My Heart", "Nowhere To Run", "Where The Boys Are", "Poor Side of Town", & her popular "Hair" medley, the show in which she starred on Broadway.
Get ready to rock!
The Groovelles
The Groovelles are dedicated to paying tribute to the greatest female artists of the '60s and '70s. The show dazzles the eye with multiple wig and costume changes and classic choreography. Experience Top 40 Hits of the Greatest Female Artists of the 1960s and 1970s sung live by three sensational women!
Hits by the 5th Dimension, Beverly Bremers, Alicia Bridges, Petula Clark, The Crystals, Jackie DeShannon, Shirley Ellis, Aretha Franklin, Gloria Gaynor, Lesley Gore, Mary Hopkin, Janis Joplin, Carole King, Gladys Knight, Lulu, Cheryl Lynn, The Marvelettes, Helen Reddy, Martha Reeves, The Ronettes, Diana Ross, The Shirelles, Nancy Sinatra, Sister Sledge, Grace Slick, Dusty Springfield, Donna Summer & more!
What makes The Groovelles truly unique is that it is the Only tribute group to include an original hit recording artist, Beverly Bremers and her million selling hit record Don't Say you Don't Remember, as a member.
Peter, Paul and Mary - American Folk Legends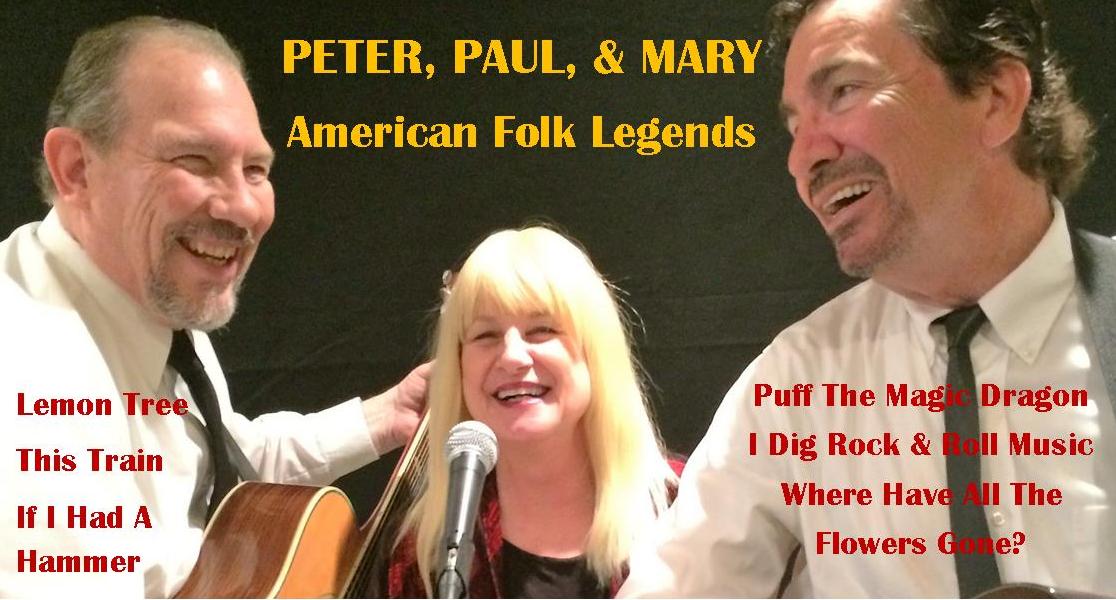 Paying loving Tribute to the most popular folk group formed in the 1960s, Peter, Paul and Mary in later decades have also proved themselves to be among the most durable music acts in history. Peter, Paul and Mary's roots run deeper than almost any other folk act one might care to name, while their appeal crosses audience lines that other acts couldn't (and can't) even approach.
We will bring together some of their best-known songs from their career. Included are such favorites as "This Land Is Your Land" and "If I Had A Hammer," "Lemon Tree", "I Dig Rock & Roll Music" "500 Miles", "All My Trials", Blowin' In The Wind", as well as Peter, Paul and Mary standards like "Leaving On A Jet Plane" and "Puff, The Magic Dragon".
During their amazing career, Peter, Paul and Mary were awarded five Grammys, eight Gold and five Platinum albums and placed 12 songs on the Billboard Top-40, with six of them in the Top 10.